Driving Lesson Prices
Fees
These fees should be read in conjunction with Conditions and Guarantee.
Differential Pricing
In comparison with other one-to-one educational and personal development services, driving tuition fees are among the lowest whilst a driving tuition service is no less expensive to deliver, and this is reflected in the standard hourly rate which I charge. Nevertheless, I use differential pricing and payment options to help you with your budgeting, and to encourage in you a commitment to developing your responsibility for safe sharing of the road environment. See the discounts and payment terms. See also my terms and conditions in a separate document.
Tuition Prices
Intensive Courses
Driving is a stressful activity, and learning to drive is even more so. Intensive courses often include morning and afternoon lessons for a whole week and which is simply too tiring for anyone, so that learning declines throughout, and they are usually followed by a pre-booked practical test at the end and which most are unlikely to pass because they have not had time to absorb the learning and become sufficiently competent and confident. Intensive courses represent poor value for your money. I do not have the hours available for providing intensive courses. I do not, therefore, offer intensive courses. My recommendation is that you limit your learning to one or two appointments per week.
Testimonial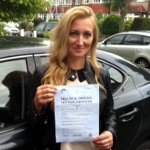 "Excellent teacher! I would like to say a huge thank you to my instructor Alan for helping me pass my driving test! Alan was always punctual, reliable, supportive and patient. His instructions were always clear and right to the point. The lessons were good fun too which helped me to relax and become a confident driver. I would definitely recommend learning with Alan! Thank you."
Aga Malinowska